Joel B. and Lilya K. Reiss Endowed Scholarship Supports School of Engineering EOF Students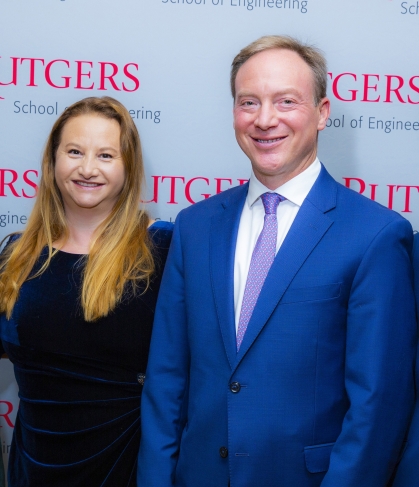 In 2018, Joel Reiss and his wife Lilya established The Joel B. And Lilya K. Reiss Endowed Scholarship to support School of Engineering EOF students with an initial contribution of $50,000. "It seemed like a lot of money at the time, but it didn't support the scholarship contributions we envisioned," he recalls. "Over the next few years, we continued to increase our funding, until January 2022 when we made the commitment to fund the scholarship to $1 million by December 2026." 
This academic year, 26 EOF students received Reiss scholarships ranging from $500 to $3,000 that have helped them access a Rutgers engineering education. For electrical and computer engineering major David Falana, who will be working at Optum as a software engineer after graduating in May, the scholarship helped him achieve his goals. "It was a substantial burden lifter and fueled my motivation to strive for academic success every day," he says. "Receiving this scholarship let me know that people like Joel and Lilya Reiss believe in me, trust in my end goal, and are willing to support it financially – and genuinely want me to succeed."  
A "Monumental" Scholarship  
Reiss, a 2021 SoE Medal of Excellence honoree who earned his BS in industrial and systems engineering in 1992, is executive vice president of TransDigm Group, a leading global designer, producer, and supplier of highly engineered aircraft components. His wife Lilya graduated from Rutgers College in 1995 with a psychology degree.   
The Reiss Scholarship is the first of its kind for the school's EOF students. "Lilya attended Rutgers because of the EOF program," Reiss explains. "If not for EOF, our paths would never have crossed. The scholarship idea originated during a conversation with SoE development staff. Collectively, we thought that helping EOF engineering students would be ideal, as it was a unique blend of Lilya's EOF experience and my engineering experience at Rutgers."  
Meera Ananth, SoE director of development, describes the Reiss Scholarship as being "monumental" for the school, adding that, "Joel is a big partner in unlocking new opportunities for student access to an engineering career by supporting EOF." 
As parents with two sons in college and a daughter who will follow, the couple is acutely aware of the high cost of education. "The expenses can pile up quickly, and unexpected costs can throw a wrench in even the most carefully crafted budget," Reiss notes. "That's why we're thrilled to be able to make a small difference in the lives of these students. By providing financial support, we hope to alleviate some of the stress associated with pursuing higher education, and help the recipients focus on what really matters: their studies and their futures." 
Getting to Know Scholarship Recipients 
In February, Reiss visited campus and met with EOF students currently receiving Reiss scholarships and heard about their personal stories and individual challenges.  
"I was so grateful for the opportunity to meet the scholarship recipients in person," Reiss says. "It's something truly special to be able to connect with the individuals whose lives you are impacting. I'm inspired by their perseverance, resilience, and determination to succeed despite the obstacles they have faced." 
For first-generation sophomore and electrical and computer engineering major Jamin Brako, his scholarship has helped him worry less about his financial woes. "I'd like to formally thank Mr. Reiss for providing me with this scholarship and taking the time to talk to me and my fellow EOF students," he says. "I appreciate his providing me with this funding, which motivates me to succeed and thrive at Rutgers." 
Inspiring Students to Pay it Forward 
After graduating in May, chemical engineering major Rachel Calero will be a process engineer at Corning, Inc. where she'll be working with her mentors from a previous Corning internship. Her Reiss scholarship let her continue to pursue her degree, without shifting focus. 
"Both of my parents are disabled and unable to work and organizations like EOF and scholarships like this one make it possible for both my brother and me to attend college without the weight of a financial burden," she explains. "I was elated to see that I had been selected for this scholarship." 
Calero reports that while she has always done her best to give back where she can – including as an EOF counselor and head counselor – she is inspired by the Reisses generosity to continue to give back in the future. 
Falana agrees, noting that his future plans include giving back to those with backgrounds like his, so they can succeed in their respective areas. "Meeting Joel Reiss and knowing that his wife was once in my position encourages me to know that my goals are possible," he states. "It lets me know that the little things I'm doing now will grow into larger contributions if I stay on the right track."  
According to biomedical engineering major Kelvin Guzman-Baez, his Reiss scholarship has already shown him he is on the right track. "Mr. Reiss's commitment to current EOF students inspires me to also give back to communities that have served me throughout college so far," he says. 
As for Reiss, he was not only impressed by the support students receive from the EOF program under the direction of Michael Brown, assistant dean and access programs director, EOF-EOP programs, but by the intelligent, articulate, and thoughtful students whose lives he and his wife are impacting.  
"These are truly deserving individuals with bright futures ahead of them," he insists. "I have no doubt they will go on to accomplish great things. We know they have a great start to their careers by getting an engineering degree at Rutgers."